Your Magento online store enjoys a thousand of visitors each day, and how many of them become your customers? If you don't have any follow up strategy, your business is just like pouring water through a funnel.
Magento Abandoned Cart Email Extension is an effective tool to decrease abandoned cart rate and increase sales for your online store.
Highlights
1. Automatically send abandoned cart emails within minutes of abandoned cart. Customer can restore cart with just 1 click.
2. Send out multiple abandoned cart emails for different events on your schedule and cancel pending emails if your conditions are met. Up-sell related products automatically.
3. Automatically ask for a review after set # of days Send 'admin only' notification emails for specific events
4. Send out multiple abandoned cart emails after customer registration.
How Abandoned Cart Email Extension Can Help Your Online Store
1. Automatically remind customers about abandoned cart
Many people abandoned their carts during shopping for some reasons. As a store owner you need to remind them about this:
Magento Abandoned Cart Email extension can help reduce 30% Abandoned Carts by sending multiple follow up emails within minutes and days of abandoned or pending cart.
2. Send event-based emails to customers
Abandoned Cart Email extension can not only decrease abandoned carts rate but also build customer loyalty by sending emails for many other customers' events such as customers' birthday, completed order, cancelled order,…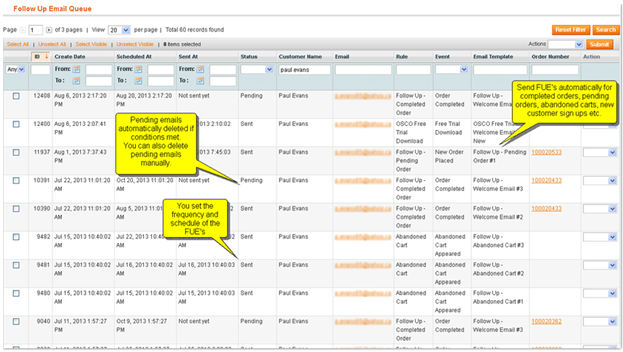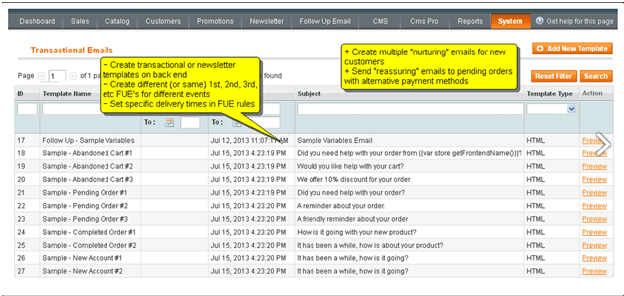 3. Integrate coupons into abandoned cart email
Store owners can integrate coupons into abandoned cart. Customers have a tendency to use coupons more often so integrating coupons into emails is an effective way to increase their sales.

4. Provide detail report of abandoned cart email
Abandoned Cart Email can help store owners track the efficiency of their campaign: How many reminder emails are sent, opened, clicked or purchased?
Through this, store owners can evaluate the campaign and change for the better one.
Full Features of Abandoned Cart Email Extension
This module allows to:
+ Send abandoned cart reminder emails per customer event
+ Supported Events: Abandoned Cart Appeared, New Order Placed, Order Processing, Order Completed, Order Updated, Order Closed, Order Cancelled, New Customer Signed Up, Customer Account Updated
+ Manage flexible rules
+ Schedule multiple emails per event
+ Cancel pending emails if other events happened
+ Set conditions to send email
+ Send emails to subscriber only
+ Send emails to moderators only
+ Set detail sender per rule
+ Send test emails easily
+ Manage email queue
+ Supports both newsletter templates and transaction emails template
+ Auto-login for customers come back via direct link to view shopping cart or order detail
+ Avoid sending the same email within defined time
+ Define when abandoned cart appeared (Time set by admin)
+ Avoid sending the same email within defined time
Magento Compatibility
+ Community 1.5.x – 1.9.x
+ Enterprise 1.10.x – 1.14.x
Resources
Abandoned Cart Email – Product Page
Abandoned Cart Email – Live Demo
Abandoned Cart Email – User Guide